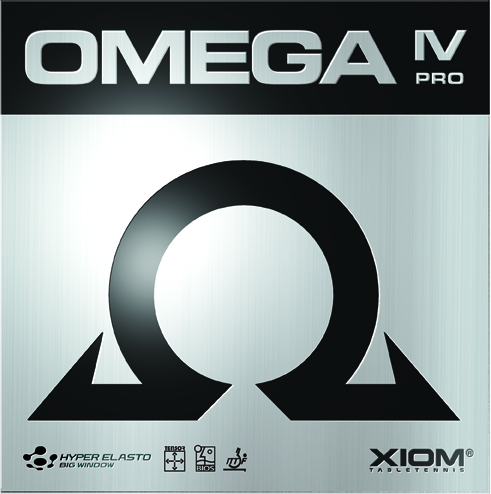 XIOM Omega IV Pro
OMEGA IV PRO
SPEED : 13.8
SPIN : 12.0
PRECISION : 8.3
HARDNESS(SPONGE) : 47.5 degree
EXTRA PLAYING PROPERTIES BY NEW CARBO SPONGE AND TOP LAYER
ADDITIONAL CLICKING FEEL FOR SHARPER CONTROL
EXTRA SPINS WITH NEW CHEMICAL COMPOSITION
Historical evolution towards full "speed-glue" aggression. Based on Hyper Elasto technology the new top sheet matched with upgraded Carbo Sponge offers extra-ordinary playing properties. Feel at the ball contact fully assimilate the clicking sensation generated by speed glues. New chemical composition and additional built-in tension make the ball more spinning and its trajectory significantly higher. OMEGA IV PRO stretches the ball from opponent's court very fiercely after the bounce as if launched from speed-glued rubber.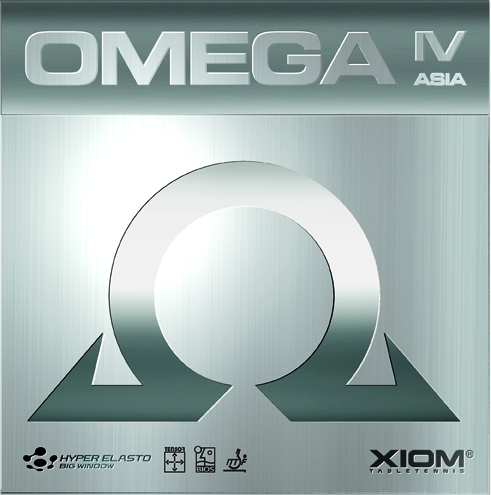 XIOM Omega IV Asia
OMEGA IV ASIA
SPEED : 13.0
SPIN : 12.0
PRECISION : 8.5
HARDNESS(SPONGE) : 48.0 degree
FOR DYNAMIC POWER-SPIN ATTACKERS
DESIGNED FOR PROFESSIONALLY TRAINED PLAYERS WITH HIGHER SWING SPEED
POWERED BY EXTRA-HARD NEW CARBO SPONGE
EXTRA SPIN CAPABILITY BY NEW CONSTRUCTION AND ADDITIONAL BUILT-IN TENSION Extreme power with extra spins in deadly aggression. Grippy top sheet accompanied by very hard Carbo Sponge and fully built-in speed-glue effect creates amazing power-spin performance. Maybe too hard for non-professionals to exploit the full capacity OMEGA IV ASIA provides the advantage to well trained players with higher swing speed. OMEGA IV ASIA stretches the ball from opponent's court very aggressively and low with extra spin. Extra precision and superb consistency from solid construction also benefit high-speed players.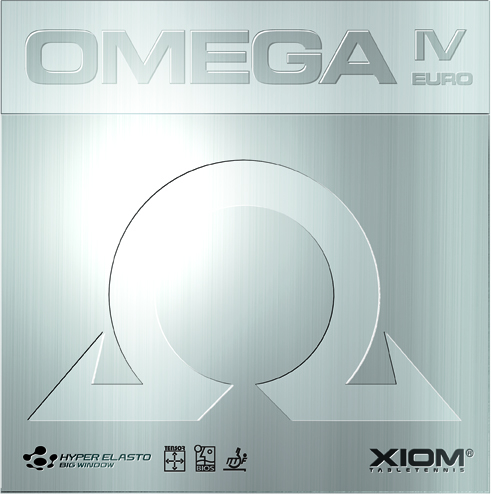 XIOM Omega IV Euro
OMEGA IV EUROPE
SPEED : 12.8
SPIN : 12.0
PRECISION : 9.4
HARDNESS(SPONGE) : 44.0 degree
FOR TECHNICAL STYLE PROS KEEN ON BALANCED AGGRESSION
DEEPER AND LONGER BALL DRAGGING AT THE SURFACE
EXTRA POWER SPINS FROM HIGH-DENSITY CARBO SPONGE
NEWLY INTEGRATED DYNAMICS AND PERFECT HARDNESS FOR RELIABLE CONTROL Hyper Elasto technology rubber upgraded by new chemical composition and new Carbo Sponge. Solid ball-capturing at the surface and perfectly matching sponge hardness promote extra spins and control at ball contact. OMEGA IV EUROPE produces significantly higher ball trajectory to make bigger window over the net. OMEGA IV EUROPE stretches the ball from opponent's court aggressively as if launched from speed-glued rubber. Clicking sensation at the ball contact also reflects the maximized built-in tension simulating full speed-glue effect.
(c) TableTennisNetwork.com / TableTennisStore.US 2009. All Rights Reserved.